Autoscope Cyclescope Bike Differentiation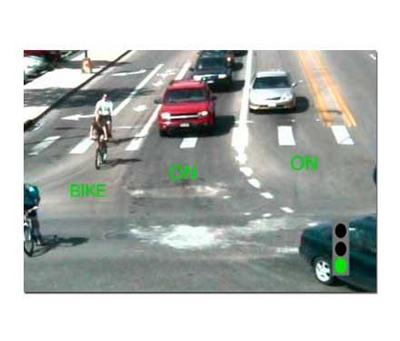 Product Overview
Helping transportation agencies provide safety for bicyclists.
The Autoscope Cyclescope feature takes bicycle detection to the next level.  Cyclescope enhances bicycle detection capability and adds the ability to differentiate between bicycles and vehicles as they approach the intersection.
A significant advantage to Cyclescope is that it doesn't require additional roadway markings, product purchases, equipment installations or maintenance. It can detect and differentiate bicycles made of any material on any approaching lane at no additional cost.
The combination of Autoscope bicycle detection capabilities and the Autoscope Cyclescope feature allow traffic control strategy with minimal changes to the signalized intersection configuration, with no changes to the cabinet wiring, with little or no changes to the controller.
Cyclescope helps transportation agencies provide safety for bicyclists by making timely precision decisions at the intersection.
Features and Highlights
Provides bicycle detection on all detectors, differentiation on all approaching lanes, at any point in the field of view 
Requires no additional equipment, installation, or maintenance costs 
Differentiates between motorized vehicles and bicycles of any material type 
Demonstrates success of bicycle friendly programs through enhanced traffic data collection
---