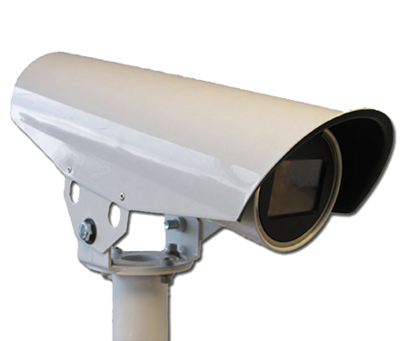 Product Overview
Durable, high resolution video traffic camera optimized for Autoscope machine vision processors.
The AIS-IV Camera™ is a high-resolution video traffic camera for the Autoscope machine vision processors; Autoscope RackVision Terra and Autoscope RackVision Pro 2. The AIS Camera has a built-in zoom lens and color imager with high sensitivity to ensure accurate vehicle detection at night. It minimizes streaking and blooming from bright light sources that could adversely affect detection performance.
With one of our high performing machine vision processors, the AIS Camera creates a complete video vehicle detection system that is an alternative to other detection technologies for many Intelligent Transportation Systems (ITS) applications; including intersection control, incident detection for bridges, tunnels, and highways, as well as surveillance applications.
Features and Highlights
Designed for wide area machine vision vehicle detection
22x remote controlled zoom lens & color imager
No streaking or blooming from bright light sources
High sensitivity for accurate detection at low light levels
Zoom & set-up control over coaxial cable
Easy mounting, rugged, environmentally-sealed enclosure
Rugged, environmentally-sealed enclosure and sunshield designed to withstand all weather extremes
Advanced faceplate heater
Low power consumption
---
Technical Specifications
Power
10W maximum
Consumption, typical current draw
85-265 VAC, 50-60 Hz or
24 VDC, 50-60 Hz
12-14 VDC
Environmental:
-40° C to +60° C (-40° F to +140° F)
IP66
Dimensions and Weight:
H x W x L
142 mm x 122 mm x 273 mm
(5.6 in x 4.8 in x 10.75 in)
1.8 kg (4.0 lb)
Regulatory
CE EN 55022, FCC Part 15, Class A
Due to our continuous efforts to develop products that are most responsive to our customers needs, specifications are subject to change. For complete list of specifications, please download the data sheet.
---
Downloads
Additional Information:
Datasheets