Autoscope RackVision Pro 1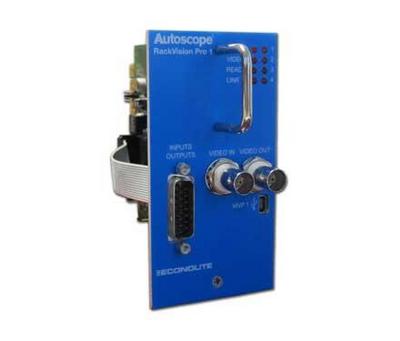 Product Overview
Single channel machine vision processor designed to meet intersection detection objectives.
The need for a simple, reliable and cost-effective dynamic video-based detection solution at vulnerable intersections and along congested roadways is becoming more important in maintaining mobility and safety. As a result, agencies are leveraging the benefits of the video processing and broadband communications capabilities of video detection, including Autoscope – a critical first step in implementing an Intelligent Transportation System (ITS) program.
The Autoscope RackVision Pro Series solutions, including RVP1 and 2 are Machine Vision Processors (MVP) designed to meet intersection detection objectives of vehicle detection and signal actuation in a typical traffic cabinet. This cost-effective detection solution utilizes the same algorithms that have established Autoscope video detection as the global leader for wide-area video vehicle detection.
Features and Highlights
Provides basic video vehicle detection for intersection stop-line and advance extension applications
Installs in a standard detector rack or self-contained shelf mount unit
Comprehensive traffic data collection
Self-test on power-up
---
Technical Specifications
 Power
12 or 24VD 11 Watts maximum
Environmental
-29° F to +165° F (-34° C to +74° C)
Dimensions
H x W x L
114 mm x 57 mm x 178 mm
(4.5 in x 2.25 in x 7 in)
0.2 kg (0.5 lb)
---